Welcome
Presence / Absence is a two-person traveling exhibition of painting works by Sergio Gomez and Mark Zlotkowski.
"Gomez paintings are fused with meditations on the multifaceted experiences of human condition and spirituality throughout the cycles of life. The human form is the dominant element in his work and it exists as an anonymous representation of the self. Gomez' delves into the essence of humanity and the human condition". "Zlotkowski's work bears witness to deeply personal versions of shared human experiences. The work makes sense of seeming paradoxes: the urban meets the wilderness; fires burn without consuming; the mundane, ephemeral stuff of life cracks open to reveal its eternal substance".
Presence Absence hopes to encourage its audience to a deeper understanding of their own visible and invisible experiences.
This exhibition is available for bookings.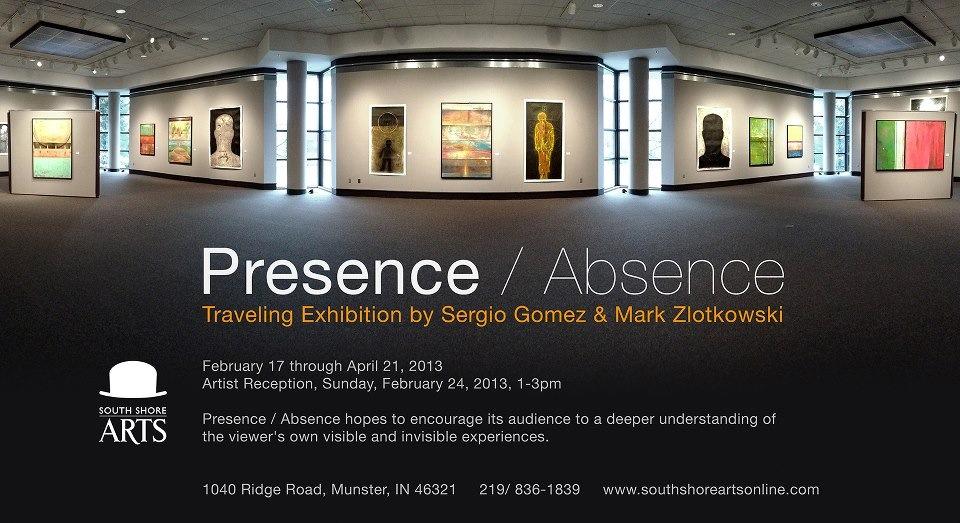 Exhibition Schedule

South Shore Arts
The Center for Visual and Performing Arts
1040 Ridge Road
Munster, IN 46321
219/ 836-1839
www.southshoreartsonline.org

Christopher Art Gallery

Prairie State College

Chicago Heights, IL

Exhibiting February 6 - 29, 2012
Artists' Reception, Thursday, February 9

Noyes Cultural Art Center

Evanston, Illinois

November 21 - January 7, 2011
Opening Reception: November 21st
Website

Krasl Art Center

St Joseph, Michigan

April 29 - June 12, 2011
Opening Reception: April 12th
Website

Indianapolis Art Center
Indianapolis, IN

June 10 - July 31, 2011
Opening Reception: June 10th
Website